Engraved Plaques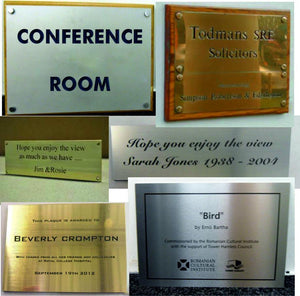 Engraved Plaques on Brass, Aluminium, Stainless Steel and a wide range of Impact Acrylic Laminates.
We offer several of the most common sizes online but we are more than happy to manufacture these plaques for you in other sizes.
We use high quality polished engravers brass in several thicknesses, 1.5mm Brushed Stainless Steel with some availability in Marine Grade and our Aluminium plaques are engraved on 1.5mm anodised aluminium; there are also some coloured aluminium plates available, please contact us if these are of interest to you.
The acrylic laminate plaques are laser engraved and come in a wide range of colours ans we can also cut them to different shapes for you, again please just ask ...

a few previous jobs completed by SK Signs ...