Home
→
Engraved Door Signs
Engraved Door Signs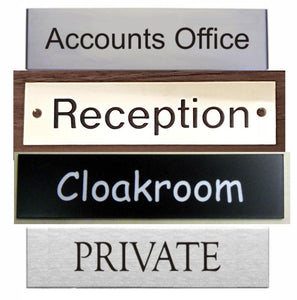 Engraved Door signs in Aluminium, Brass, Stainless Steel or wide choice of Acrylic Laminates.
Door signs can be engraved with alternative inscriptions and can also be manufactured at different sizes, please contact us with your requirements, or if just a different inscription choose 'Custom Door sign' from your chosen material option.
We are also able to manufacture the acrylic laminate signs in different shapes and with a wider range of fonts and graphics can also be added.
There are a range of optional fixings available for these door signs i.e. drilled, countersunk holes, caps and screws, double sided tape and some can also be supplied with holders / frames.

a few previous jobs completed by SK Signs ...