Home
→
Food & Hygiene Safety Signs
Food & Hygiene Safety Signs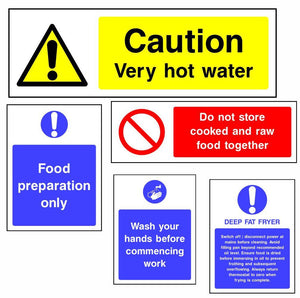 A range of Food & Hygiene Safety Signs are available from our online store and include food storage safety signs, food preparation safety signs, kitchen utensil safe usage signs and protective clothing safety signs.
"These signs are to advise employees of food hygiene standards and safe working practices required within the workplace."
The signs are available as Self Adhesive Vinyl signs, Semi Rigid PVC signs or Rigid 5mm Foam signs from the drop down menus.
These Food & Hygiene Safety signs are also available with an optional Protective Clear Cover, which is recommended for areas requiring cleaning on a regular basis. We also offer various fixings for these signs and can alter sizes if required.

a few previous jobs completed by SK Signs ...